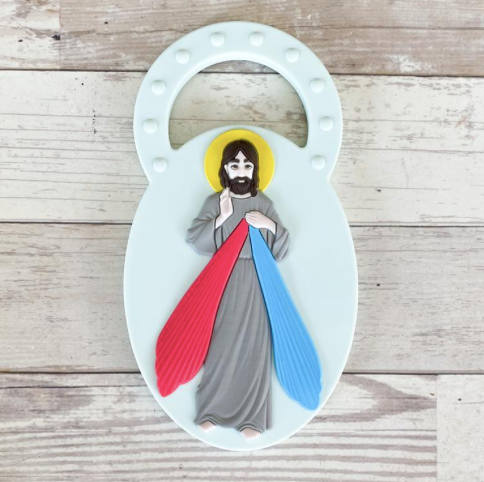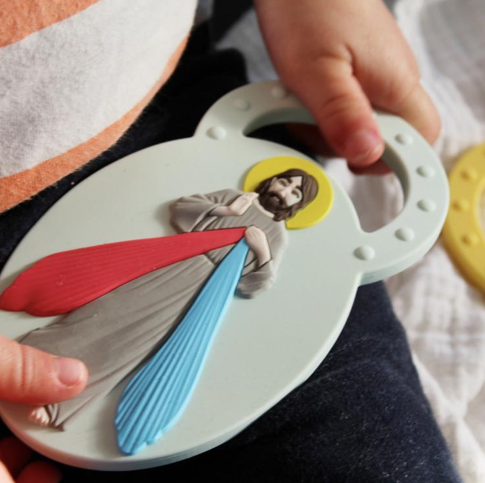 From Chews Life:
"We are so excited to introduce our brand new Divine Mercy Teether! 
"Jesus I trust in You", the message Our Lord asked St. Faustina to have painted with the Divine Mercy image, needs to echo in each one of our hearts!  Putting this image of perfect Love into the hands of our little ones and allowing them to experience Our Lord through play is the perfect way to introduce them to the life changing message of Christ's Divine Mercy and Love!

This teether is made of solid food grade silicone, free of BPA, Phalates, PVC, and other toxins. It stands 6.4" tall."
**
Care for the product, from Chews Life:
"We recommend a damp microfiber cloth for cleanups with a non-abrasive soap and hanging to dry! When necessary you may use a natural alcohol based hand sanitizer.
We do not recommend putting them in the dishwasher, to prevent excessive wear on the organic cotton cord.
Avoid prolonged exposure to water so as not to wear down the organic cotton cord. Boiling it will melt all the wax on the cord.
Submerging the rosary or other silicone bead item gets the cord soaked through inside the beads where the cord can't dry properly.
*The Pacifier Clip Ribbon can be cleaned with warm soapy water and then hung to dry."
For common FAQ about this product, visit https://chewslife.com/pages/faq
---