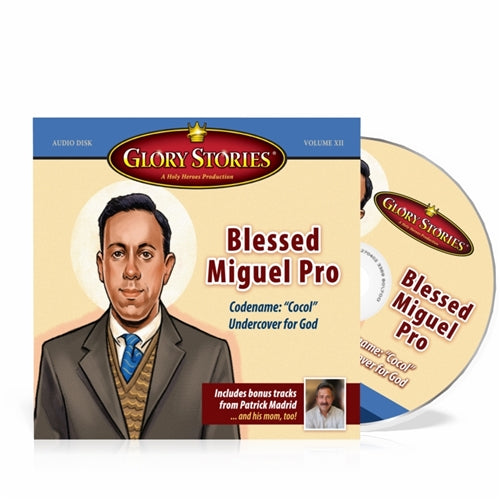 Blessed Miguel Pro: Glory Stories CD Vol 12
Codename: "Cocol" -- Undercover for God tells the inspiring and often very funny story of that "master of disguises" -- Blessed Miguel Augustin Pro, SJ!
And we've disguised some of your Holy Heroes Adventure Guides and slipped them into the story, too! Listen for the voices of Anna and Therese in the story -- can you find them without looking at the credits?
* * Plus, we've included BONUS TRACKS from Patrick Madrid, providing background of the time in which Blessed Miguel Pro lived and more daring stories about his ministry.
Glory Stories volume 12:* * And an extra yummy BONUS TRACK surprise: we've put in a special recipe from Patrick Madrid's mom. Just listen to the story, and you'll guess why we did!
Your children will be inspired by the courage of this "undercover priest," and they'll learn:
How to be joyful in the face of persecution and personal difficulties
To trust in God even when things don't seem to make much sense
How service to others often requires courage--and even imagination
What "cocol" means -- and why this priest used it as his secret call sign!
And much more to capture young imaginations for Christ!
This is a story you will want your children to listen to over and over -- and you'll get a laugh and perhaps even a tear out of it every time.
---
Blessed Miguel Pro: Glory Stories CD Vol 12