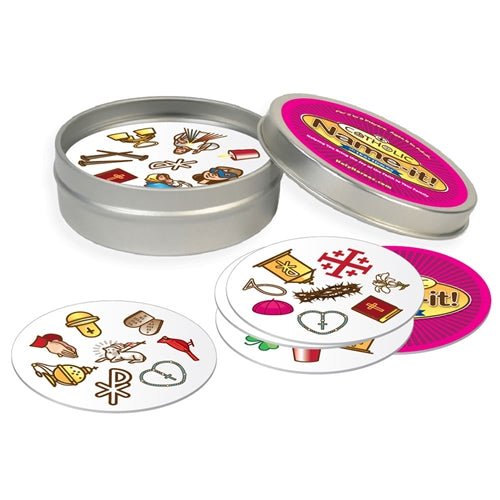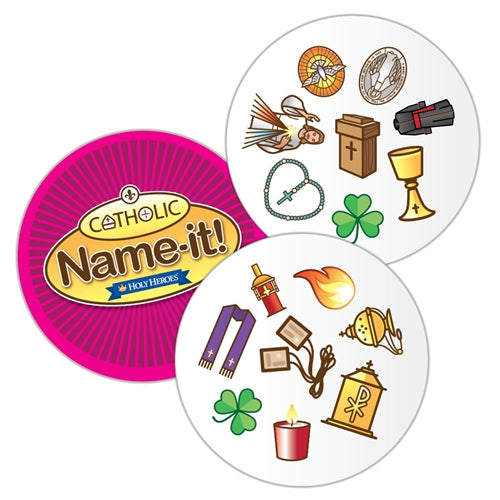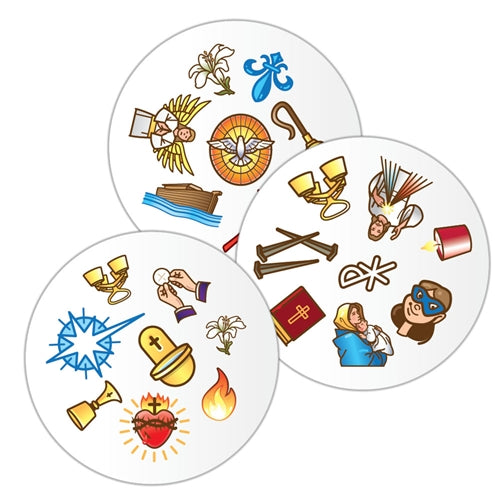 Catholic Name-It Game - Holy Heroes
Can your children recognize all 57 objects in the our Catholic Name-It! game?
57 cards...
57 Catholic objects and symbols...
8 objects on each card...
But only 1 object matches between any 2 cards … Wow!

To WIN: you match it … NAME-IT! … and claim it!

Fast-paced Family Fun!

And here's the best part:

Your children will learn the names and meanings of Catholic objects and gestures, awakening in them an appreciation for the wonder of our Catholic Faith in the joys all around us and especially in the church and at Holy Mass!

Be warned, Mom & Dad: it's the young ones that often can quickly spy the match--and blurt the NAME out first!

[Downloadable list of pronunciations & meanings of all 57 objects, symbols, and gestures below!]

The 57 images include the below (and many more!):
Divine Mercy image
Scapular
Madonna and Child
Rosary
Thurible
Cassock
Advent wreath
Altar bells
Biretta
Zucchetto
Chalice
Crosier
Chi Ro
Sacred Heart
Immaculate Heart
Monstrance
Tabernacle
Thurible
Keys of Peter
Paschal Candle
Ciborium
Miraculous Medal
and 35 more great Catholic images which every child should recognize!
Ages 6 & up
60 cards (57 game cards, 3 cards with instructions for many game variations)
Click Here to download the Master List of Names and Definitions
---
Catholic Name-It Game - Holy Heroes